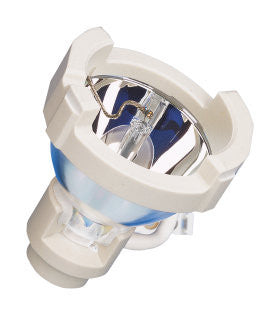 Osram HXP R 120w/45C VIS
ram HXP R 120w/45C VIS mercury short arc lamp. For scientific microscopy & lighting.  Replacement lamp for Zeiss (000000-0482-730) and Leica/Leitz EL6000.  Osram 69119.
The extremely durable HXP lamps are preferred for applications for UV spotlight treatment (including composite curing and tooth whitening dental treatment).
Osram A 364 30F 01 2G.
*Discount on 2 or more lamps please contact us for prices*
*In stock ready to ship*
Wattage: 120w
Diameter 67mm
Length 77mm
Lumen 28000lm
Long Life 2000hrs 
Osram data sheet


---
We Also Recommend
---