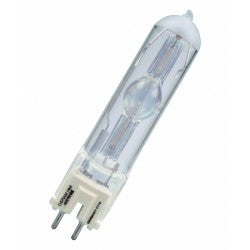 Osram HMI 400w/se UVS Gzz9.5
Osram HMI 400w/se single ended metal halide lamp with Gzz9.5 base. Hot restrike lamp ensures superb colour rendering & perfect daylight in any condition including daytime filming outdoors. Dimmable with hot restart capability, OSRAM HMI lamps are two to five times more efficient than an incandescent light.
Also incorporating a doped UV Stop (UVS) quartz outer jacket that reduces UV emissions up to 99,9%. Not only does UVS protect film crews and talent from radiation, it also extends the life of fixture components without compromising performance. 
Osram NAED 55073-0, Osram A M04 727 00 2G
Replacement lamp for the Arri L6.400M.0, Dedolight 400w HMI bulb for DLH400S & Profoto ProDaylight 400 Air. Cross references to Philips MSR 400 HR, GE CSR 400SE/HR/UV-C, GE 21853, Tungsram 93011462 and Sylvania BA 400 SE HR.



*Discount on 2+ lamps please contact us for details*
Overall length 110mm
Diameter 23mm
Lamp life 650 hours
Lumen 33,000k
Colour temperature 6,700k
---
We Also Recommend
---