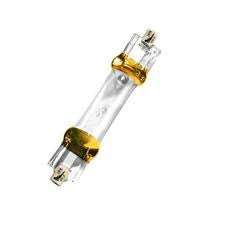 Cleo HPA Flexpower 400-600w 919798629
Cleo HPA Flexpower 400-600w UV sunbed tanning lamp with R7s base. High quality, long lasting & excellent performance. Formerly made by Philips for Philips sunmobiles, now made by Cosmedico. Part no: iSOLde Cleo HPA 919798629.

Popular UV solarium lamp for the following Philips Hapro solariums: HB400 ,HB404, HB810, HB811 (3pcs), HB814, HB822, HB823, HB824, HB826, HB828, HB846, HB875, HB950, HB951, HB952, HB953, HB955, HB971 (4pcs) HB975 (4pcs), HB977 (4pcs), HP3701 & HP8540 (3pcs) sunbeds. 

400 - 600 watt

R7s fitting (clip-in)
length: 118 mm
lifetime: 800 hours
*In stock, ready to ship*


Subbed tubes
Excellent they are just what I was looking for came in on time would use again
Great
Great fast service bulbs work great
CLEO HPA FLEXPOWER 400-600 WATT bulbs
Fast & efficient service from slclightingonline ; a helpful listing which displays all the Philips Sunmobile models listed that these bulbs fit ; these Philips units are no longer manufactured. Specific details re the bulbs is also displayed : reference number , length , and R7 clip-in fitting > useful for future purchases.
Great service
First time I've used the company, they told me what I needed and sent it out , very prompt professional service , would def recommend ...
Cleo hpa flex power bulbs
Great service fast delivery and bulbs work perfectly so far.....
---
We Also Recommend
---